Motorsport


To give you an idea what Landshark Automotive can build for you, please click on the images below to navigate to a full gallery of the class-winning cars we've built.


---


After finishing first NHIS and Mid-Ohio in Landshark Automotive-built 325is, Michael Gilbert wins a National Championship in SpecE36 class.
Congratulations, Mike!

---
Another first place for Michael Gilbert in Landshark Automotive's SpecE36 at Calabogie race track this past week-end. We will have an in-car video up shortly.
Here are few pictures just to give you an idea what an excellent track Calabogie really is!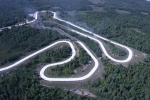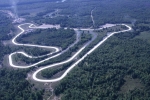 ---

Yet again, Landshark Automotive's SpecE36 with Michael Gilbert at the wheel wins all three races at Lime Rock this past week-end of June 2nd and 3rd. Pictures and future scheduled races are to follow.
---
Landshark Automotive-built SpecE36 with Michael Gilbert takes a win at Virginia International Raceway (VIR). More races to follow this summer.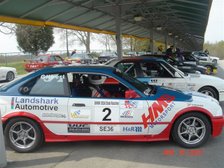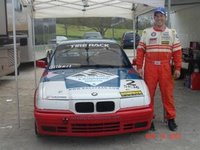 Stay tuned for more details and news!

---
In late 2004 we acquired a '92 325is that was in need of some work. Sporting a full Rieger body kit and custom PTG paint, it looked great from the outside but pretty much every mechanical aspect of the car needed attention. Over the course of winter, the following items were replaced, along with numerous maintenance items we won't list here:

.: Suspension :.
- Bilstein Sport struts and shocks
- H&R Race Springs
- M3 lower control arm bushings
- Racing Dynamics strut brace
- AA rear shock tower bar
- Racing Dynamics sway bar kit (front/rear)
- LTW x-brace bar
.: Engine :.
- Schrick Racing camshafts
- Complete racing valve train kit from VAC Motorsport
- 3-deg angle valve job
- VAC Motorsport head gasket
- Supersprint exhaust
- PAR Cold Air Intake
- TMS performance ECU chip
.: Brakes :.
- Zimmerman cross-drilled rotors
- Porterfield R4S pads
.: Wheels/Tires :.
- Haman PG2 17" wheels with Kumho Ecsta Supra 712 225/45Z-17 tires
Over the course of this winter, we are planning to stroke and bore out the block to over 3.0L with all-new internals. We also acquired complete S52 engine and drivetrain that will serve as a backup platform for this application.
While this is still work in progress, you may actually see this car at this year's driving events. Check back often for more updates as this project is far from over.