---
At Landshark Automotive we take great care in following and exceeding BMW's maintenance guidelines in order to maintain superior handling, ultimate performance, and most importantly safety and reliability for you and your BMW. However the real value of our service is our expertise and familiarity with the problem areas, common failure points, and the practical service needs of your particular BMW model.

Our BMW Maintenance Systems have been devised with the following objectives: maximize vehicle safety, reliability, and minimize breakdowns resulting from wear, all at minimum cost.

While the Scheduled Maintenance Service follows BMW's factory guidelines step by step and meets all BMW factory warranty requirements, our Additional Maintenance Service exceeds BMW's factory warranty requirements. This additional service will extend your BMW's longevity and performance.
---
Computerized Alignment Services (return to top)
It took us a while but is well worth the wait! We have ust installed Hunter's top of the line "Series 811" alignment system with wireless DSP508-XP-F sensor heads, complete with WinAlign and WinAlign Tuner software that can perform full spectrum of alignment tasks: from street cars with emphasis to increase tire life to track warriors with corner-weight alignment configured for maximum performance on the track.
System has been designed to meet the specifications of all BMW Group vehicles, including those equipped with single-joint, spring-loaded front axles and multi-link rear axles with spherical kinematics.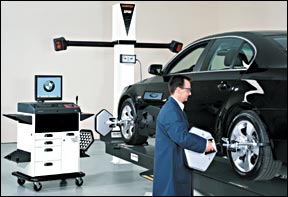 ---
Wheel/Tire Services (return to top)
Using Hunter's top-of-the-line RunFlat-certified tire changer (TC3500) along with Hofmann's excellent wheel balancer (Geodyna 2400) we can provide full range of wheel and tire services to our customers: from simple summer/winter swap to high-performance lightweight wheel and ultra low-profile tire applications for the track in variety of wheel diameters and tire sizes.
---

Car/Key Memory and Customization (return to top)
Ever wanted to enable (or disable) daytime running lights on your car? How about enabling automatic drive-away (protection) locking? Or change they way your immobilizer locks and unlocks your car? Or maybe you come home late and would like to keep high/low beam lights on for a little while after you exit the car? Well, we can help you with these and all other items you wished you could change to personalize ownership of your car to completely different level. We can enable and disable every possible convenience function that is available on your particular car with help of our BMW diagnostic system - Autologic.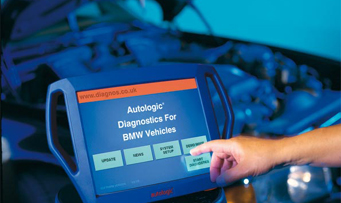 ---
Other Additional Services (return to top)
If your BMW has an M50 engine (e36 325/328/M3), factory plastic thermostat housing cover should be replaced with all-aluminum one to prevent overheating.
During the e36 product cycle, BMW used plastic impeller water pumps. These plastic impellers would commonly fail from use, causing overheating of the motor. To prevent water pump failure and potential engine damage, water pump with plastic impeller should be replaced with metal impeller one.
Stock, or even heavy-duty stock rear shock mounts (RSMs), are high wear items on BMW 3 Series cars as these mounts cannot endure the stresses caused by aggressive driving and stiff shock valving. Additionally, when RSMs flex considerably, you are losing valuable shock damping and dropping suspension performance. Should be replaced with urethane RSMs to prevent failure.
Stock control arm bushings (CABs) are known to be a high-wear items on most BMW cars and should be replaced with Powerflex urethane CABs when necessary -- these bushings will provide improved high speed stability and overall increased suspension, brake and tire life.
---
FREE* Pre-Event Inspection (return to top)
Check windshield wipers, windows, mirrors and seat belts to be in sound operational condition
Check brake system for sufficient operation such as overall rotor/pad thickness, master cylinder leak test, brake fluid test, brake line corrosion check, pedal operation check, etc.
Check drive belts for proper tension and drive and half shafts for looseness and deterioration
Check engine and transmission mounts for signs of deterioration or excessive motion
Check steering for looseness or binding throughout the range of travel and check fluid level
Check coolant and fuel hoses for any leaks
Check suspension mounting points to be secure and in sound condition
Check wheels and tires for cracks, bends, blisters, uneven wear etc., and torque the lug nuts
Check exhaust to be securely mounted and in good condition
Inspect for overall body or chassis corrosion
---
FREE Pre-Purchase Inspection (return to top)
Determine if there is an frame or body damage from previous accidents
Check the engine for needed service and repairs
Check the complete electrical system, including the charging system, battery, heating and air conditioning
Check the exhaust and suspension
Check the brakes and undercarriage
Check for any fluid leaks
---
Pre-Trip Inspection (return to top)
Check all fluid levels
Inspect entire cooling system
Inspect belts and hoses
Assess all components of tires and brakes for any potential problems
Determine if battery has any inadequacies
Disclaimer:
* Free pre-event inspection is valid for existing Landshark Automotive customers only. Brake flush service must have been performed by Landshark Automotive no more then 60 days prior to the event.
Prices, terms and conditions are subject to change without notice.